AOYS
Website, logo, banner & interactive games
2014 - 2016
ArtOnYourScreen (AOYS) is the new participatory online exhibition platform of ZKM in Karlsruhe; an innovative place for artistic production and mediation under the conditions of the networked world. The project regularly opens up artistic positions and is designed for long-term use.
During a one-year start-up phase, nine works were produced and published, accompanied by an art-science contextualisation and an online placement program.
Generative Logo
Generative design reacts to interactions by a user. Here, a generative logo was designed to echo the participatory approach of ArtOnYourScreen. When the page is loaded, the logo is presented on the page made up of several shapes. But as the visitor scrolls these shapes begin to change, becoming random before settling back to the original logo.
Website
The website was conceived as an attempt to make the artists' content accessible through the internet in a playful manner. The user moves through a canvas-like information landscape, where further information about the work or the artist can be found according to how the artist submitted their work. Every artwork occupies a separate space, each accompanied by its own unique colours and content.
Interactive Games
To access the artists' work further, some interactive online games were developed as special editions of the works.
Weblink
Service
Tools
CMS Perch, Paperjs, Processing
Logo variations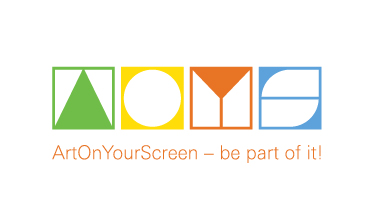 Logo
The banner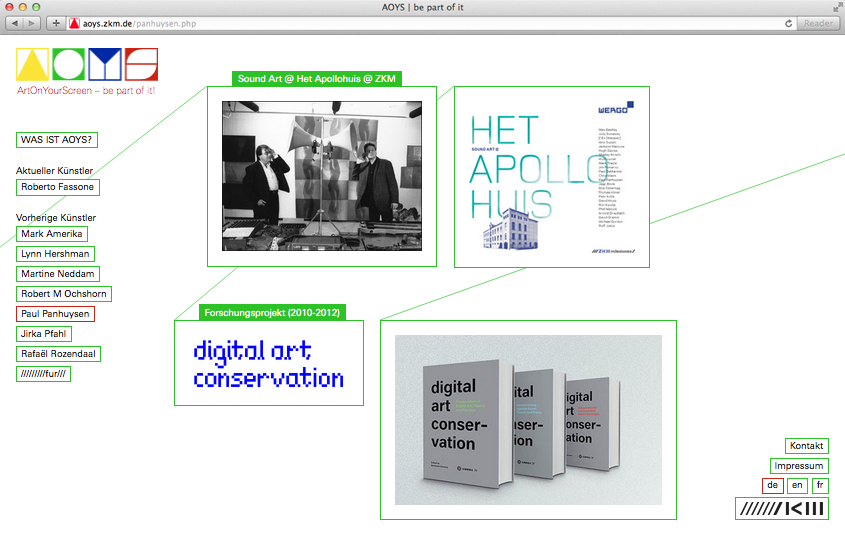 Website artist Paul Panhuysen
Website artist Rafael Rozendaal
Website artist Roberto Fassone
Interactive Game for Paul Panhuysen
Interactive Game for Paul Panhuysen
Interactive Game for Mark Amerika